[ad_1]

---
Editor's note: This is the Monday, January 16, edition of the "Game Day with Kevin Modesti" newsletter. To receive the newsletter in your inbox, sign up here.
---
Good morning. Football season is over in L.A., and basketball now takes center stage. Let's catch up with the Lakers and Clippers at a pivotal time in their seasons.
First, other news:
Now, about our two tantalizing NBA teams.
The Lakers, who have been without big man Anthony Davis for a month, fell to the Philadelphia 76ers 113-112 at Crypto.com Arena last night, their third straight loss after an encouraging stretch of six wins in seven games.
The Clippers, who saw John Wall and Marcus Morris Sr. join Paul George on the injured list, beat the league-worst Houston Rockets 121-100 earlier yesterday at Crypto.com for their second win in nine games.
It's kind of surprising to look at the standings. The Clippers (23-22), No. 6 in the Western Conference, hold the last spot in the playoff field. The Lakers (19-24), No. 13, are only 1½ games out of No. 10 and qualifying for the play-in round, and three games out of the playoff field.
But the season now is a little more than halfway done, and the Clippers' and Lakers' chances of maximizing their potential will be completely done unless they make serious moves on the court and in the trade market before the Feb. 9 deadline.
For the Clippers, that potential was seen before the season began to mean contending for their first NBA championship.
Just being a serious playoff team will require having George and Kawhi Leonard both healthy and on the court together, and it will require some roster work.
"They need athleticism, and they also need some edge, some energy, some give-a-crap," Mirjam Swanson said of the Clippers when the Southern California News Group columnist wrote about the L.A. teams' trade prospects.
"Indiana's 26-year-old shot-blocker Myles Turner would fit the bill, or Atlanta's high-flying John Collins, 25, could work. Or perhaps another big, like Utah's Kelly Olynyk, who has range, floor vision and isn't known for being particularly polite on the court."
When Clippers beat writer Janis Carr wrote last week about where the Clippers stood after a six-game losing streak, she noted that the team had used 15 different starting lineups this season. Players and coaches looked forward to better health and claimed to see positives and signs of hope.
For the Lakers, pre-season potential meant returning to the playoffs after missing out last year, and making 2023 memorable for something more than LeBron James' pursuit of Kareem Abdul-Jabbar's NBA career scoring record.
That won't happen unless Davis gets back in action and quickly back to the form he showed right before his foot injury, and unless the front office lives up to VP of Basketball Operations Rob Pelinka's preseason promise to build a competitive roster around LeBron.
"Find that man a proven shooter and some additional defensive length," Swanson wrote. "Ante up for Detroitwing Bojan Bogdanovic, who is shooting 48.7% from the field and 41.3% from 3-point range. Or if not him, make the deal for San Antonio's Doug McDermott (a career 41% 3-point shooter) or Josh Richardson (36.4%)."
Lakers beat writer Kyle Goon agreed that Bogdanovic is an obvious trade target – for the Lakers and other teams.
"The Lakers' front office will have to answer questions about the sincerity of its competitive spirit if a third straight trade deadline passes with no moves at all," Goon wrote in analyzing the Lakers at midseason.
Making the Clippers look like the picture of health and stability, the Lakers used their 24th lineup of the season yesterday and have had James and Davis playing together for less than half of the schedule.
Yet, since Nov. 11, the Lakers have a better record (17-14) than the Clippers (16-17).
With the Rams' and Chargers' seasons over, anyone shifting attention to the NBA is catching the Lakers and Clippers at an interesting time.
Keep up with the Lakers online here, by signing up for the Purple and Bold newsletter here, and following Kyle Goon on Twitter here. Read about the Clippers online here, with the Inside the Clippers newsletter here, and on Twitter with Janis Carr here.
The season hasn't gone how either team hoped.
There's still time to change that, but it's growing short.
TODAY
Lakers can recover quickly from a tough loss when they host the Rockets, losers of 10 straight and 15of 16 (7:30 p.m., SPSN).
Ducks' long homestand ended so badly, they sound happy to get on the road at Pittsburgh (4 p.m., BSSC). Ducks update.
Santa Anita canceled its holiday racing card because of the rain forecast.
READERS REACT
The newsletter asked: Who – or what–– do you blame for the Chargers' come-from-ahead loss to the Jaguars?
Reader Gregg Florence emailed to say: "Staley must go. The Chargers need a football coach, not a pencil-pushing stat analyst."
NEXT QUESTION
With nearly half of the NBA regular season to play, which L.A. basketball team will finish higher in the standings, the Clippers or Lakers? Make your prediction, and explain your reasoning, by email (KModesti@scng.com) or on Twitter (@KevinModesti).
280 CHARACTERS
"LeBron hit a three. Make a wish." – Kyle Goon (@KyleGoon) calling attention to a rarity on a night the Lakers made only six of 20 three-point shots.
1,000 WORDS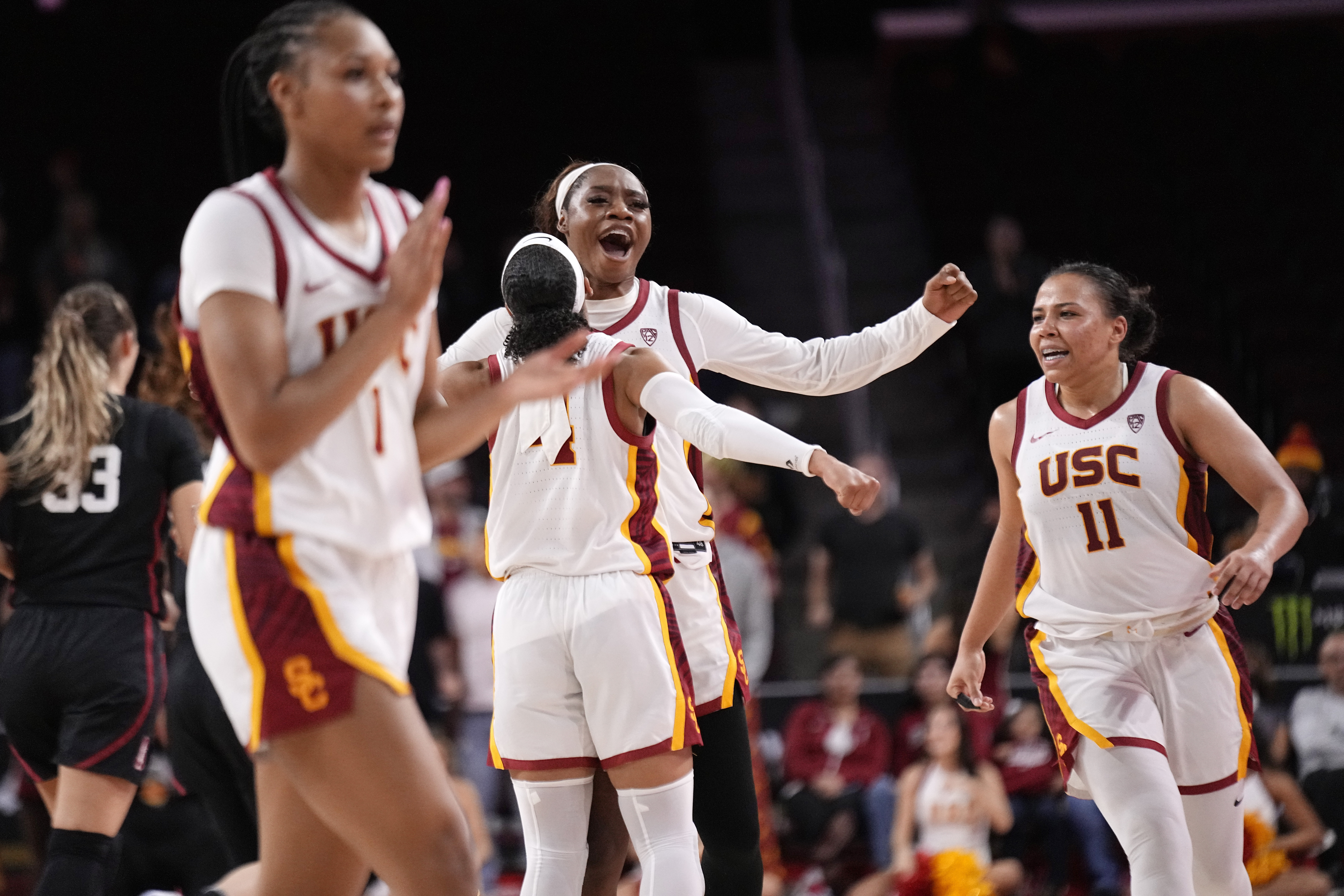 Good time: From left to right, USC's Taylor Bigby, Kayla Williams, Okako Adika and Destiny Littleton celebrate during a timeout in the second half of the Trojans' 55-46 victory over second-ranked Stanford yesterday at Galen Center. Photo is by AP's Mark J. Terrill.
LET'S TALK
Thanks for reading the newsletter. Send suggestions, comments and questions by email at KModesti@scng.com and via Twitter @KevinModesti.
---
Editor's note: Thanks for reading the "Game Day with Kevin Modesti" newsletter. To receive the newsletter in your inbox, sign up here.
---
[ad_2]

Source link