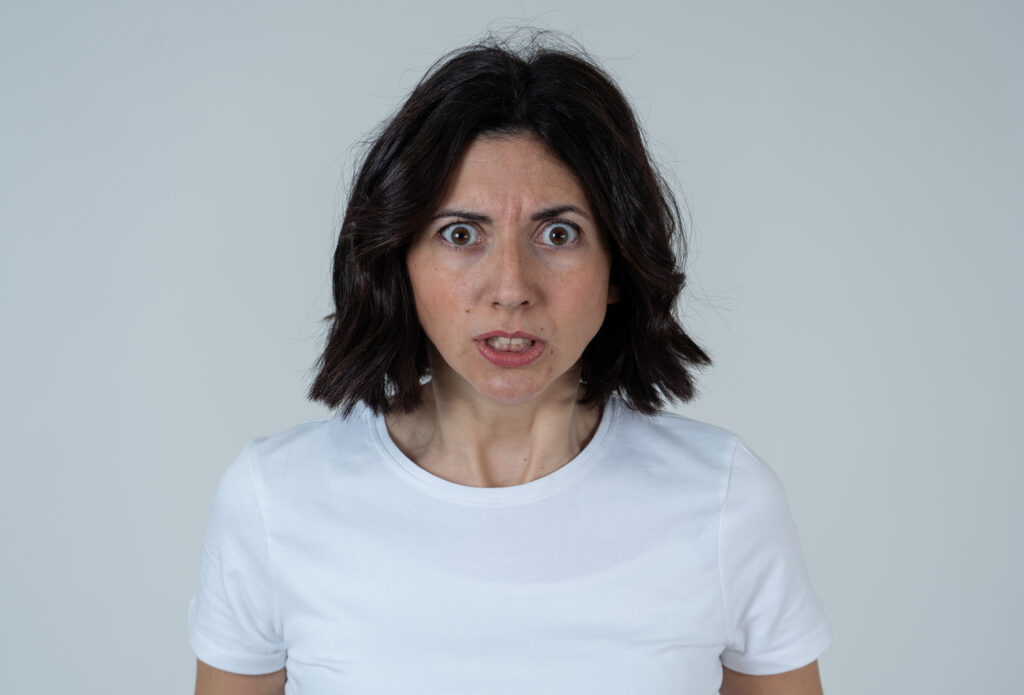 All,
One of the unfortunate downsides about being married is the fighting.  And the reality is that while men tend to be the more aggressive of the two sexes, in domestic situations women can dish out as much as they receive.  So if you find yourself asking "my wife yells at me – what do I do?", here are some hopefully helpful thoughts.
Note, this article is primarily for men having trouble with their wives yelling at them, but it can apply more broadly across genders and sexes. Anger is a complicated emotion.  In a lot of cases, anger can be destructive and in other cases it can be constructive.  Anger is also a normal response to some situations.  So, its not straightforward to manage.
First, Avoid Extreme Solutions To Manageable Problems
A lot of advice on the internet isn't much good.  For example this question "my wife yells at me", was posed on Quora.  The tenor of the comments were basically that if your wife yells at you you should dump her.  This is terrible advice as getting divorced over a character issue is a bit like cutting off your foot because your toe is broken. Here is what they say:
And here are some responses: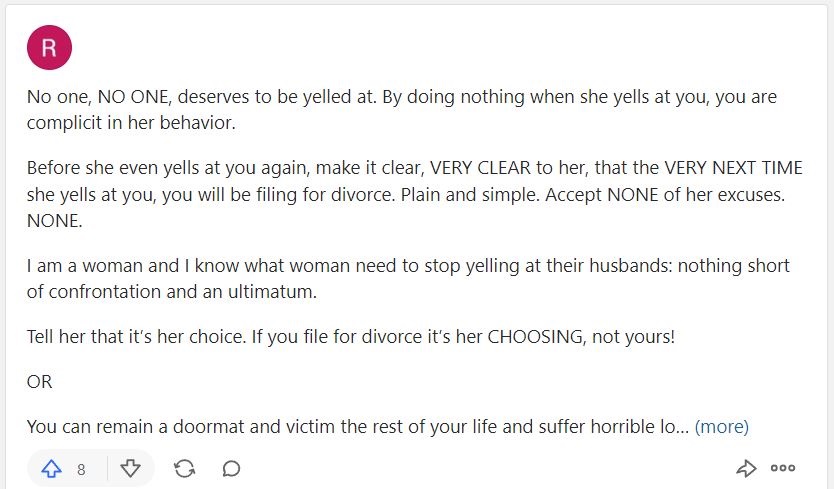 And one more.

Source: Quora.com
Divorcing your wife may not stop the yelling – if she is angry at you over something, divorcing her will just make her angrier.  And it may not immediately solve your problem.  Divorces are extremely expensive and can take years to legally and emotionally untangle. This is especially the case if you have property or children (example here).  So even getting rid of your spouse may not solve your problems – this person may be negative to you for years afterwards, even if you do split up.  So, if you're wondering why my wife yells at me, don't implement an extreme solution to what could be a manageable problem.
Second, Listen Very Carefully To What She Is Saying. 
The reality is most people aren't pathological, or all that abusive. People sometimes just lose their temper. In any event, angry people really want to be heard.  Her being angry sometimes isn't about you. She may be triggered by something. When there are events in our life that have any similarity or remind us of previous negative events in our  own history, our brain perceives a threat and gets activated.  So your wife being angry may not about you. In any event, listening to what your wife is telling you nonjudgmentally is not going to hurt.
Your objective here is to understand what's going on with her.  Not anything else.  If you are not clear on something, ask.
Listen carefully to what she is saying.  You won't get anywhere if you don't understand her.
Third, You Need To Keep Your Cool. 
Keeping your cool when someone is yelling at you is difficult, but serves you in the long run.
According to the Gottman Institute, humans are biologically wired to be sensitive to danger.  Often being yelled at or fighting with our partners can trigger these biological reactions.  One of these is an increased heart rate.  Another is chemical changes in your brain that which release memories or other thought processes that aren't immediately articulatable.  When you're upset, it often means that you are not thinking rationally and aren't able to have a meaningful conflict reducing conversation.
A good idea when this happens is to take a break.  Get some physical space from the situation.  But, you also need to get some mental space.  Take your mind off being yelled at and instead go for a walk, work out, listen to a podcast, surf the web, mediate or the like.
Fourth, Plus Up Your Emotional Intelligence.
Probably both you and your wife need to improve your emotional intelligence and communication skills. When things are calm, encourage your wife to manage her yelling in a healthy way.  Healthy ways to process anger can include yoga, physical exercise or deep breathing. You may need to read a few books on building emotional intelligence and patiently work with her to get her stop yelling.
At a minimum when you're talking with your wife about the yelling, you need to avoid doing these things:
Criticizing: This is when you make negative statements about your wife's character or personality. Don't do this. It opens the door to bigger problems.
Contempt: You need to hold your wife's views in high regard and treat them as important. Don't mock them, disrespect them or treat them as worthless. Even if you're thinking it, don't act that way. Take what she has seriously, and act like you're taking it seriously.
Defensiveness: Being defensive means being focused on deflecting perceived blame or accusation. Taking this perspective broadcasts that you don't take your wife's concerns seriously. Don't do it, don't be defensive.
Stonewalling: This is when you withdraw from the conversation, shut down or stop interacting. If you stonewall it is usually because physiologically you're stressed out and you don't want to make the situation worse. Don't.  If you need a break, ask for it.  Don't ignore your wife even if she is yelling.
If you are doing any of this behavior when you talk with your wife, stop immediately.  Don't do it again. You're only shooting yourself in the foot.
Fifth, Consistently and Assertively Explain What You Need.
If your wife is yelling at you, you need to be assertive about telling her to stop.  Sometimes people yell because they believe it is an effective way to communicate.  So, she may need to hear the same message consistently, politely and assertively delivered until it starts to sink in.  This may take seven or eight times over a period of weeks or months.
A good way to do this is to phrase it in terms of your needs.  Use I statements and say things like "I need to spoken to in a calm manner", or "I do better when I'm spoken to in an everyday tone of voice".  When you state your needs this way, it sends a message about how you want to be treated, in a way that leaves it open for your wife to respond in a healthy way.
In any event, assertively standing up for yourself generally improves your self esteem and it also sets a limit that you can't be pushed around. Eventually your wife will get the message that there is a better way to communicate.  The key here is you need to be consistently assertive over time.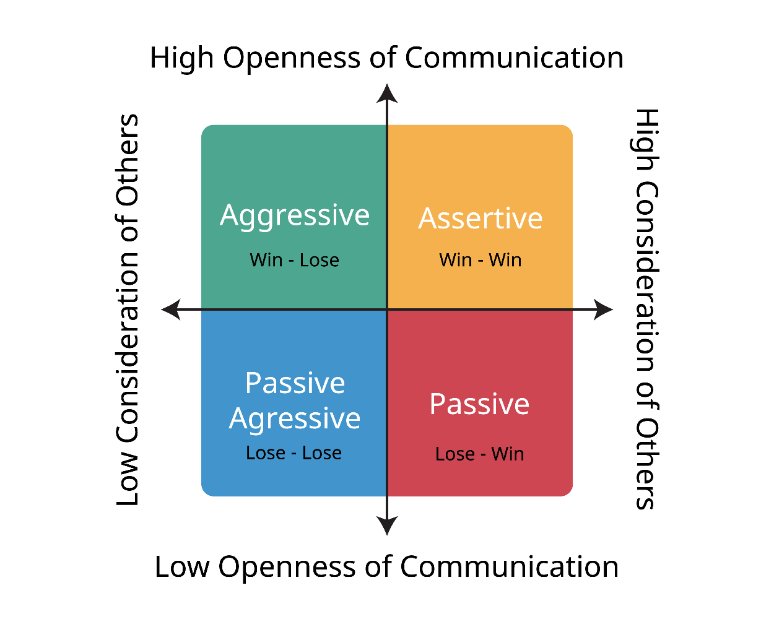 Sixth, Don't Keep It A Secret.
If you're asking "my wife yells at me – why?"  One important factor to consider is social isolation.  A lot of men don't want to disclose that they're having domestic issues. Society teaches that men should be self reliant and handle problems without asking for help. That said, this rule doesn't apply to domestic trouble.  Talk with a friend or family member you trust about this.  Getting perspective will help you with a sanity check and see if your assumptions are reasonable.
Also, if your wife is yelling, on some level she may know its not okay.  So, if she knows that other people know, she may curb the behavior.
Get Help If You Need It
Finally, if you really think you are in abusive relationship, get some help.  You've got a couple of options.  First, you can call the National Domestic Violence Hotline.  That number is: 1-800-799-7233. They appear to have Spanish speaking counselors as well.  Their website is here.  They have live chat and text options.
If you need something more heavy duty than that, consider hiring a marriage counselor.  The most direct way to do this is to ask around or hire someone.  Psychology Today has comprehensive listing of accredited counselors.  You can even sort by price, which is good if you are budget conscious.
There are a couple of good books you might consider reading as well:
Getting the Love You Want, Harville Hendrix 
Seven Principles For Making Your Marriage Work, Gottman.
For More Great Dinks Articles, Read These:
How To Tell Your Spouse They Don't Make Enough Money
Yes, Making Unilateral Decisions Can Impact Your Relationships
These Are The Red Flag Of Spousal Financial Abuse 
The Grass Is Greener Where You Water It